Appetizers
WESTSIDE TATER TOTS $11
Bacon & jalapeno wrapped tater tots, topped with scallions. Served with a beer cheese sauce & sour cream.
CHICKEN WINGS $12
8 Crispy chicken wings tossed in buffalo, Carolina gold or BBQ sauce. Served with carrots and celery sticks & ranch or blue cheese.
Extra sauce sides .50
Spicy Tuna Tartare $15
Diced tuna, sriracha aoli, soy sauce, sesame oil, togarashi, furrikake, avocado, pickled fresno pepper, on a tortilla crisp.
New
Soft Pretzels $12
Soft & warm Bavarian pretzel. Served with a side of honey mustard & beer cheese sauce.
SOUPS
PORK GREEN CHILI $11
Pork green chili topped with cheddar cheese. Served with a warm flour tortilla.
New
FRENCH ONION $11
Beef & onion broth topped with sourdough croutons, gruyere cheese & scallions.
New
Red Elk Chili $11
With sour cream, cheddar cheese, scallions, and jalapeno cheddar corn bread.
SALADS
CLASSIC CEASAR $12
Romaine lettuce tossed in our house Caeser dressing, parmesan cheese & topped with parmesan crisps.
*GF
New
Burrata & Tomato $15
Ripened tomatoes tossed in basil oil, charred tomato vinaigrette, pickled onions, balsamic reduction & grilled sourdough.
Beet & Arugula $12
Colorado beets & arugula tossed in our house berry vinaigrette topped with goat cheese, candied pecans and balsamic reduction.
*GF
Bibb Wedge $12
Boston butter lettuce topped with chili candied bacon, cherry tomatoes, pickled red onions, bleu cheese & avocado ranch.
*GF
Burgers
Sides
Fries – sweet potato fries – tater tots – cole slaw – black beans – broccoli – truffle fries +$3
BBQ Burge $19
BBQ sauce, cheddar cheese, served with onion ring tower.
Bison Burger $19
6 oz bison patty, roasted red peppers, chipotle aioli, butter lettuce & pepper jack on a toasted brioche bun.
The Bacon Cheese Burger $19
American Cheese, bacon, house aioli, lettuce, tomato, and pickle on a toasted brioche bun
Juicy Lucy Blue Cheese & Bacon $19
USDA choice ground beef patty American cheese, bacon, house aioli, lettuce, tomato, and a pickle on a toasted brioche bun.
Elk Chili Burger $20
Served open face with our award winning red elk chili, cheddar cheese, sour cream and scallions.
Sandwiches
Half Soup & Half Sandwich
Served with your favorite side: French Fries, Tater Tots, cole Slaw, Black Beans or Broccoli
Sides
Fries – sweet potato fries – tater tots – cole slaw – black beans – broccoli – truffle fries +$3
The original comfort meal. Any ½ sandwich plus a cup of soup or chili for 15
The Yard Bird $16
Cornflake crusted chicken breast, swizz cheese, lemon herb aioli, lettuce, pickles & tomatoes on a toasted brioche bun.
*Not available for ½ soup ½ sandwich.
Classic Turkey Club $14
Smoked turkey, bacon, swizz cheese, tomato, red onion, & house mayonnaise on toasted white bread.
French Dip $16
Thin sliced roast beef and swizz cheese on a toasted baguette. Served with au jus and horse radish cream.
GRILLED CHICKEN CLUB $16
Grilled chicken, bacon, jack cheese, lettuce, tomato, onion & pesto aioli on a toasted baguette.
Philly cheesesteak $16
Thin sliced roast beef, american cheese, mushrooms, onions and red peppers on a toasted baguette.
B.L.A.T. $15
Bacon, lettuce, tomato, avocado & our house mayonnaise on toasted whole wheat bread.
Ruben $17
House corned beef, Sauer kraut, Swiss cheese and 1000 island dressing, on marble rye.
ENTREES
Short Rib Mac n Cheese $18
Penne pasta, 3 cheese sauce, braised short rib, parmesan garlic bread & demi-glace.
Ramen Bowl $22
Scallion, mushroom, pickled veggies, 1 sunny side egg in a savory beef broth with ramen noodles with choices of Short Ribs or Salmon
Prok Belly Bowl $24
Crispy Prok belly tossed in our siracha sauce, on a bed of white rice, red cabbage, cilantro and red onion and fresh cucumber
*HOUSE RULES No naked dining…. some limited exceptions will be made! we are open 7 days a week for breakfast, lunch and dinner.. mostly.. except for mud season, biking season, ski season, rafting season, golf season, fishing season & when we don't feel like it :). A 22% gratuity will be added to parties of 5 or more. A 33% gratuity will be added to your check if you are a giant pain in the ass! Grumpy, impatient people will be seated in the restaurant next door!!!
*Cash is always preferred. Let us cater your next party, sales meeting, conference, orgy, reunion, bachelorette party or birthday celebration.
*FINE PRINT REQUIRED BY THE HEALTH DEPARTMENT *Eggs, burgers & fish may be served undercooked based on your preferences. Consuming raw or undercooked meats, poultry, seafood, shellfish or eggs may increase your risk of foodborne illness, especially if you have certain medical conditions.
NOT TO SOUND TOO FULL OF OURSELVES BUT WE ARE PRETTY POPULAR AROUND THIS BEAUTIFUL TOWN. TO HELP YOU GET RIGHT IN WE'VE PARTNERED WITH NOWAIT.
We are very excited to announce our partnership with NoWait! During peak or busy times this handy app quotes you wait times and more importantly allows you to join in the waitlist before even arriving at Westside Cafe. Just download the app (here from the iPhone or Android app stores) and we'll text you when your seat or table is ready even while you're enroute. For more detail see NoWait's website HERE.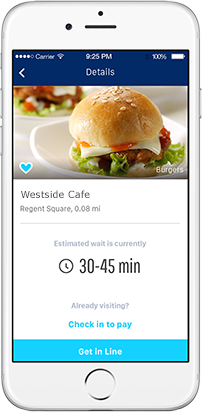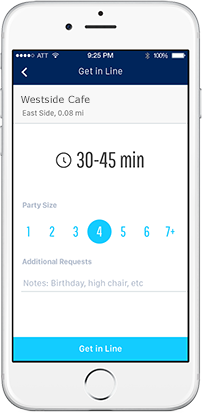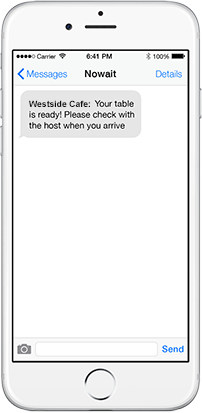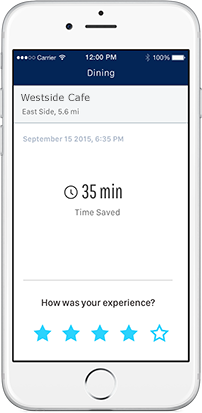 GO SHOPPING!
VISIT US IN STORE FOR MUGS, SHIRTS, AND MORE!

Open Daily 7am – 3pm
Evenings – Tuesday – Saturday from 3pm – 9pm