Wake Ups
Drip Coffee 3.50
Mocha 4.50
Red Eye 4.25
Expresso 2.50
Double Expresso 4
Cappuccino 4.25
Hot Chocolate 4.50
Latte 4.25
Boozy Wake Ups
Westside Coffee 11
Fresh brewed coffee, Grand Marnier, Kahlua, Bailey's & whipped cream.
Irish Coffee 11
Coffee, Jamesons Irish
whiskey, sugar cube &
whipped cream.
Hot Apple Pie 11
Hot apple cider, Tuaca & whipped cream.
BRUNCH DRINKS
B.A.M
18oz schooner tequila, agave syrup, citrus juice & a splash of Grand Marnier.
Moscow Mule 12
Vodka, ginger beer & lime juice.
Berry Mule 12
Wild berry vodka, ginger beer & lime juice.
The Grand Mimosa 15
Baby bottle(187 ml) of Chandon Brut, orange juice & a splash or Grand Marnier.
Mother Load Mimosa 13
Orange juice, bubbles & citrus vodka.
Mai Tai Mimosa 13
Orange, guava & mango juices with bubbles & a splash of coconut rum.
Aperol Spritz 12
Aperol & bubbles.
World Famous Big Ass Bloodys
With our specialty infused vodkas – House – Spicy – Bacon a giant veggie skewer & a side car of
beer(18oz).
The Westside 15
House infused vodka with all your favorite flavors, celery, garlic, peppers & onions with our famous Bloody Mix & a celery salt rim.
Spicy Mary 15
Put a little spice in your life with the original flavor profile plus a habanero & jalapeno kick.
Bacon Mary 15
Bacon goes with everything! We infused vodka with the smokey deliciousness of bacon for this Bloody Mary classic.
ADULT BEVERAGES
La Paloma 12
Exotico tequila, grapefruit, Aperol & a splash of soda.
Margarita 12
Exotico tequila, simple syrup, sweet & sour & Grand Marnier.
Old Fashioned 12
Bourbon, sugar cube, 3 dashes of bitters, orange wedge & a cherry.
Cosmopolitan 12
Absolut Citron, Cointreau, cranberry & lime.
BEER
Drafts 14oz or 20oz 6/8
Craft Lager Upslope Brewing Co. – Gore Creek IPA Vail Brewing Company.
Bottles 4
Coors Light – Coors – Corona
Cans 5
Nitro Stout Left Hand Brewing – White Ale Avery Brewing – India Pale Ale Upslope Brewery – Amber Lager Denver Brewing Co
Cocktails To Go
Square One Organic Sparkling Cocktails 12
Pears of Roses(Lemon & pear juices, rosemary & lavender) – Basil Berry Fizz(Lemon, strawberry juice & a hint of basil) – Cucumber Therapy(Lime juice, ginger, cucumber) -Mediterranean Pearl(Pomegranate, lime, orange juice & Mediterranean spices.
Café Rumba 12
(2 6oz servings) Coffee, rum & cream
Moscow Mule 12
(2 6oz servings) Vodka, ginger & lime.
Centre CBD Sparkling Drink 12
(2 6oz servings) Centre is a refreshing CBD drink that creates moments of focus, clarity and clam, 30 mg CBD & only 40 calories.
On The Rocks Premium Cocktails 12
(2 6oz servings) The Hornitos Margarita – Tres Generaciones Jalapeno Pineapple Margarita -The Effen Cosmo – The Knob Creek Old Fashioned
WINE LIST
White & Pink
Whispering Angel(Rose) 43$
Allan Scott(Sauvignon Blanc) 35$
Matua(Sauvignon Blan) 39$
Kris(Pinot Grigio) 51$
Santa Margherita(Pinot Grigio) 43$
Mersoleil(Chardonay) 51$
Bubbles
Shramsberg (Brut Rose) 55$
Laurent Perrier (La Cuvee) 65$
La Marca (Prosecco) 35$
Red
Duck Pond(Pinot Noir, Oregon) 43$
Melville(Pinot Noir, CA) 69$
Truchard(Merlot, Cameros) 55$
Catena(Malbec Arg.) 51$
Alamos(Malbec Arg.) 39$
Marchesi Antonori(Chianti) 62$
M. Chapoutier(France) 39$
Bonanza(Cabarnet) 35$
Predator(Cabernet) 39$
Beringer(Cabarnet) 50$
Ramey(Cabernet) 77$
Silver Oak(Cabernet) 109$
WINE BY THE GLASS
Sparkling Wine (Chandon Rose, CA) 187ml $13
Sparkling Wine (Chandon Brut, CA) 187ml $13
Proseco (La Marca) 6oz $10 or 9oz $13
Rose (Whispering Angel) 6oz $12 or 9oz $15
Sauvignon Blanc (Allan Scott) 6oz $10 or 9oz $13
Pinot Grigio (Santa Margherita) 6oz $14 or 9oz $18
Chardonnay (Sonoma Cutrer) 6oz $14 or 9oz $18
Pinot Noir (Duck Pond) 6oz $12 or 9oz $15
Malbec (Catena) 6oz $14 or 9oz $18
Chianti (Marchesi Antonori) 6oz $16 or 9oz $20
*HOUSE RULES No naked dining…. some limited exceptions will be made! we are open 7 days a week for breakfast, lunch and dinner.. mostly.. except for mud season, biking season, ski season, rafting season, golf season, fishing season & when we don't feel like it :). A 22% gratuity will be added to parties of 5 or more. A 33% gratuity will be added to your check if you are a giant pain in the ass! Grumpy, impatient people will be seated in the restaurant next door!!!
*Cash is always preferred. Let us cater your next party, sales meeting, conference, orgy, reunion, bachelorette party or birthday celebration.
*FINE PRINT REQUIRED BY THE HEALTH DEPARTMENT *Eggs, burgers & fish may be served undercooked based on your preferences. Consuming raw or undercooked meats, poultry, seafood, shellfish or eggs may increase your risk of foodborne illness, especially if you have certain medical conditions.
NOT TO SOUND TOO FULL OF OURSELVES BUT WE ARE PRETTY POPULAR AROUND THIS BEAUTIFUL TOWN. TO HELP YOU GET RIGHT IN WE'VE PARTNERED WITH NOWAIT.
We are very excited to announce our partnership with NoWait! During peak or busy times this handy app quotes you wait times and more importantly allows you to join in the waitlist before even arriving at Westside Cafe. Just download the app (here from the iPhone or Android app stores) and we'll text you when your seat or table is ready even while you're enroute. For more detail see NoWait's website HERE.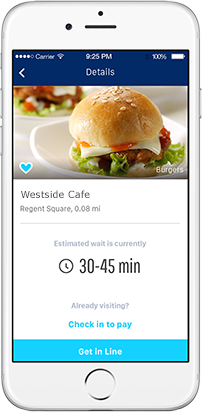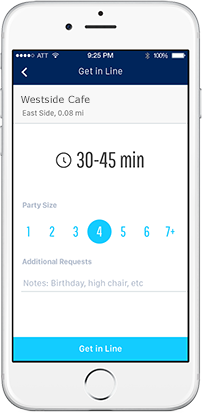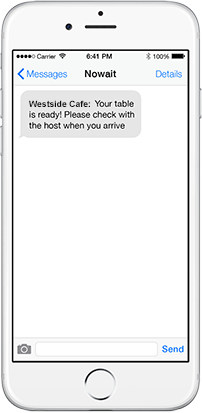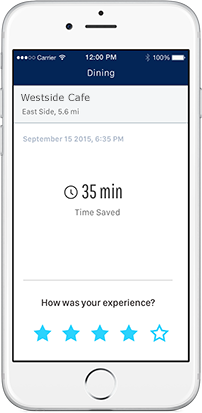 GO SHOPPING!
VISIT US IN STORE FOR MUGS, SHIRTS, AND MORE!

Open Daily 7am – 3pm
Evenings – Tuesday – Saturday from 3pm – 9pm