Starters
SPINACH ARTICHOKE DIP $7.99
with grilled naan bread and pickled veggies
BUTTERNUT SQUASH HUMMUS $8.99
With cilantro oil and pomegranate seeds, served with grilled naan bread and red pepper slices
BISON NACHOS $14.99
Bison tenderloin, bacon bits, jalapenos, scallions, black beans, sour cream, guacamole, jack & cheddar cheese melted over fresh tortilla chips with a salsa trio | sub chicken or beef-12.99
AHI TACOS 9.99
Ahi tuna tossed with sesame oil, scallions, garlic, soy wasabi aioli and served with pickled ginger, seaweed salad and lime.
SLIDERS Each $5.99, Pair $9.99
*Our slow roasted, lightly smoked pulled pork topped with creamy coleslaw on brioche bun
*Crispy crab cake slider topped with arugula and our house made lemon pesto vinaigrette
*Lamb Merguez slider topped with tzatziki and harissa aioli
SHISHITO PEPPERS $9.99
Tossed with Kosher salt, served with a mango, thai chili dipping sauce
BACON WRAPPED TATER TOTS $8.99
Crispy tater tots wrapped in honey cured bacon with a pickled jalapeno slice served with melted cheddar and sour cream
SWEET POTATO FRIES $6.99
With a sweet & spicy siracha dipping sauce
TRUFFLE FRIES $6.99
With a creamy parmesan dipping sauce
CHICKEN WINGS $11.99
Served crispy with carrot sticks and celery. Choose your flavor: BBQ or Buffalo
SOUPS
PORK GREEN CHILI Cup $6.99 / $Bowl 8.99
Our award winning chili served with melted cheese & a flour tortilla
FRENCH ONION Cup $6.99 / Bowl $8.99
with homemade croutons and melted swiss
WESTSIDE CHICKEN TORTILLA Cup $6.99 / Bowl $8.99
With fresh cilantro and avocado
SALADS
ADDITIONAL DRESSINGS: BLEU CHEESE, CITRUS VIN, LEMON PESTO VIN, GREEK, BALSAMIC VIN, GREEK VIN, HOUSE MADE RANCH AND PEAR VINAIGRETTE
SIMPLE SALAD $5.99
Mixed greens, grape tomatoes, red onion, cucumber, house baked croutons and a balsamic vinaigrette
KALE CAESAR SALAD $6.99
Romaine and kale tossed in a Caeser dressing with house made croutons and shaved Parmesan
BEET SALAD $7.99
Oven roasted red and gold beets, goat cheese, orange segments, toasted pecans, arugula and citrus vinaigrette
POACHED PEAR AND CHICKEN SALAD $7.99
Organic baby arugula with house poached pears, candied walnuts, Glenview farms bleu cheese chunks and a pear vinaigrette
MAKE IT AN ENTREE
Add your favorite protein and we will bump up your greens for free! Grilled chicken, sauteed shrimp, grilled salmon 8.99 | Grilled filet  15.99
SANDWICHES
CHOICE OF: FRIES, TOTS, SWEET POTATO FRIES, COLE SLAW, BROCCOLI, BLACK BEANS, LEMON QUINOA SALAD
(Substitute a Simple Salad for $3.)
WESTSIDE CHEESE BURGER
THE REGULAR $11.99 (8OZ.) THE BIG ONE (12OZ.) $13.99
Hand smashed, USDA Choice Angus Beef, cooked to perfection with our house blend of spices and your favorite cheese.
SHORT RIB SANDWICH $13.99
On Texas toast with melted Swiss cheese, sauteed mushrooms, arugula and house pickled red onions, served with a creamy horseradish sauce
SHRIMP PO BOY $13.99
Crispy shrimp, green leaf lettuce, tomato slices, sriracha aioli and spicy giardiniere, on a soft baguette
GRILLED CHICKEN CLUB $11.99
Grilled chicken breast, Boar's Head bacon, Monterey jack cheese, lettuce, tomato slices, red onion & pesto aioli on a baguette
BLACK & BLEU BURGER
THE REGULAR (8OZ.) $11.99 THE BIG ONE (12OZ.) $13.99
Blackened with Cajun spices and topped with bleu cheese & Boar's Head bacon
ADD ONS (1.50) American, Swiss, jack, pepper jack, cheddar, bleu, feta, jalapeno cream chz, mozzarella, bacon, avocado, fried egg BBQ sauce, béarnaise, cheese sauce, marinara, pork green chili, guacamole, sour cream
VEGGIES (.75) Sautéed shrooms, spinach, jalapenos, sautéed onions, sautéed peppers
COMFORT FOOD
BISON TENDERLOIN FAJITAS $21.99
Marinated bison tenderloin with peppers, onions, pico-de-gallo, rice and beans, lettuce, tomato, sour cream, guacamole and grated cheese, served with warm flour tortillas Substitute beef or chicken $18.99
SHRIMP & CHICKEN MOLCAJETE $18.99
Spicy tortilla soup served with grilled chicken and skewered grilled shrimp, fresh cilantro, lime and traditional accompaniments
GRANDMA'S CHICKEN POT PIE $17.99
Grandmas Rock! Tender roasted chicken with seasonal veggies in a thyme cream sauce w/ a flaky pastry topping
HOMEMADE BISON MEATLOAF $21.99
Topped with a crispy Vidalia onion ring and frazzled red onions, served with mashies, mushroom gravy and sauteed green beans Add extra onion rings for $1.79 ea.
ASPEN RIDGE FILET MIGNON $33.99
Served classic steakhouse style with roasted fingerling potatoes, creamed spinach and bearnaise
BBQ RIBS $22.99
1/2 Rack St. Louis style ribs (a little meatier than Baby Backs) with our award winning raspberry, chipotle BBQ sauce, Colorado corn pudding and cole slaw
NOODLES
SHORT RIB MAC-N-CHEESE $20.99
Penne pasta in our house made, creamy cheese sauce topped with tender braised short ribs and Parmesan bread crumbs, served with garlic bread
PASTA OF THE DAY
Chef's choice, fresh ingredients, creative sauces and different pastas….Ask your server for details
HOUSE MADE BUFFALO LASAGNA $20.99
Traditional, savory lasagna w/ Colorado buffalo, creamy ricotta, marinara and grilled garlic bread
FISH
BLACKENED CATFISH $18.99
Andouille sausage spiked red beans, rice and braised collard greens, y'all!
ATLANTIC SALMON $24.99
Grilled Atlantic salmon with lemon, spinach quinoa, ber blanc and toasted pine nuts
FISH & CHIPS $16.99
Beer battered Alaskan cod with fries, coleslaw, tartar sauce and malt vinegar
GRILLED FISH TACOS $17.99
Grilled mahi on corn tortillas with white cabbage, fresh salsa, creamy Baja sauce, black beans, rice & fresh cilantro
NOT TO SOUND TOO FULL OF OURSELVES BUT WE ARE PRETTY POPULAR AROUND THIS BEAUTIFUL TOWN. TO HELP YOU GET RIGHT IN WE'VE PARTNERED WITH NOWAIT.

We are very excited to announce our partnership with NoWait! During peak or busy times this handy app quotes you wait times and more importantly allows you to join in the waitlist before even arriving at Westside Cafe. Just download the app (here from the iPhone or Android app stores) and we'll text you when your seat or table is ready even while you're enroute. For more detail see NoWait's website HERE.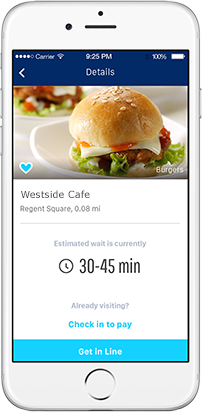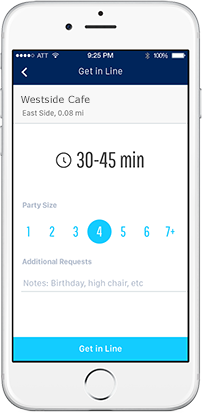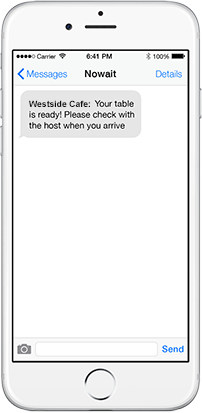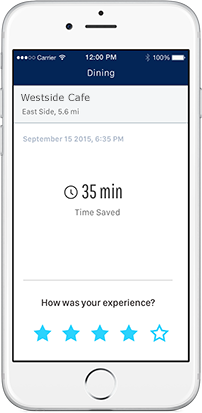 HAPPY HOUR SPECIAL
50% Off Appetizers and Draft Beer – 3pm to 6pm – Thurs. to Sun.

Open Daily 7am – 3pm
Evenings – Thursday to Sunday 3pm – 10pm