FAVORITES
LOCAL SPECIAL $7.99
2 eggs, hash browns & toast.
+ ham, sausage, chorizo or bacon 2.50
TOURIST SPECIAL $9.99
2 eggs, hash browns & toast.
+ ham, sausage, chorizo or bacon 2.50
TOAD IN THE HOLE $10.99
A childhood classic: toasted, parmesan crusted brioche with a hole in the middle, filled with 2 eggs, breakfast sausage, with baby arugula tossed in a balsamic vin
DIRTY BISCUITS & GRAVY $11.99
Homemade biscuits & country gravy with hash browns, 2 eggs & your choice of breakfast meats
WESTSIDE LOX & BAGEL $15.99
Homemade lox cured for 36 hours served with chopped red onion, sliced tomatoes, capers, chive cream cheese & your choice of bagel
CORNED BEEF HASH $13.99
House made corned beef hash with potatoes, onions and peppers served with 2 eggs & your choice of toast
CHICKEN FRIED STEAK N' EGGS $13.99
Country gravy, 2 eggs, hash browns & toast
HUNGRY BEAR BREAKFAST $13.99
2 eggs with hash browns, choice of pancake or French toast, 2 breakfast meats (ham, sausage, turkey, chorizo or bacon) and toast
BISON MEATLOAF & EGGS $14.99
a new comfort food classic…A slice of our home made Bison meatloaf with gravy, 2 eggs, hash browns and toast
THE HANGOVER CURE $13.99
Guaranteed to make you feel better! A cast iron skillet filled w/ tater tots, a hamburger patty, two eggs, diced green chilies & bearnaise sauce
Omelettes & Skillets
VEGGIE OMELETTE $10.99
Tomato, mushrooms, pesto, spinach and feta cheese served with hash browns & toast
DENVER OMELETTE $10.99
Peppers, onions, mushroom, ham & cheddar cheese served with hash browns & toast
FARMER'S OMELETTE $10.99
Bacon, hash browns (inside), sautéed onions & cheddar served with hash browns & toast
SOUTHWESTERN SKILLET $11.99
Scrambled eggs, black beans, onions, peppers, tomatoes, pepper jack cheese and salsa topped with scallions and crema served with a flour or corn tortilla
THE PHILLY SKILLET $11.99
Scrambled eggs, sliced roast beef, peppers, onions, mushrooms, & american cheese sauce with sliced baguette
MY BIG FAT GREEK SKILLET $11.99
Scrambled eggs, gyro meat, red onion, tomato, feta cheese and tatziki sauce with warm naan bread
THE ITALIAN SKILLET $11.99
Scrambled eggs, mozzarella, italian sausage, spinach, basil, tomato and pesto served with toasted baguette slices
THE RIO GRANDE SKILLET $11.99
Scrambled eggs, spicy chorizo, hash browns and jack cheese served with choice of toast
3 EGG OMELETTE $10.99
Farm fresh eggs with a choice of three fillings served with hash browns & your choice of toast
Additional Items $1.50
: MEATS Ham, chorizo, sausage, bacon, turkey, turkey bacon, gyro meat
: CHEESE Cheddar, jack, pepper jack, feta, mozzarella, swiss, American
: VEGGIES Tomato, mushrooms, peppers, broccoli, spinach, pesto, salsa
The World's Best Benes
THE CLASSIC $13.99
English muffin, poached eggs, ham and warm béarnaise
CAPRESE $14.99
Poached eggs, house made mozzarella, sun-dried tomato, basil & béarnaise on toasted ciabatta bread drizzled with a balsamic syrup
CHICKEN & WAFFLES $15.99
Sweet potato wafflettes, poached eggs, fried chicken, chipotle béarnaise drizzled with maple syrup
VEGGIE $14.99
Polenta cakes, poached eggs, tomato, avocado, spinach, asparagus, béarnaise, balsamic syrup
BISON TENDERLOIN $15.99
English muffin, bison tenderloin, poached eggs, béarnaise and a drizzle of buffalo demi-glace
CRABALICIOUS $15.99
English muffin, crispy crab cakes, poached eggs and béarnaise
SMOKEY THE SALMON $14.99
English muffin, house smoked chipotle salmon filets, poached eggs and béarnaise
THE SURFER $15.99
Gluten free english muffin, raw spinach, turkey bacon, avocado, poached eggs and our house made béarnaise
THE LEPRECHAUN $14.99
English muffin, house cured corned beef, poached eggs and béarnaise
SOUTH OF THE BORDER $14.99
Crispy tamale cakes, pulled pork, poached eggs, chipotle béarnaise topped with avocado, queso fresco & pico de gallo
SOUTHWESTERN $14.99
Pepper jack cheese, avocado and chorizo quesadilla topped with poached eggs and chipotle béarnaise
THE GREEK GOD $14.99
Grilled naan bread topped with lamb merguez sausage, poached eggs, tzatziki sauce, pickled veggies and fresh dill
* All of our Eggs Benedicts are served with hash browns
Lighter
PARFAIT $7.99
Greek yogurt flavored with colorado honey, pineapple, strawberries, granola, grapes, blueberries
TOASTED STEEL CUT OATS $8.99
Toasted with cinnamon and served with colorado honey and fresh berries
FRESH FRUIT BOWL $7.99
Seasonal fresh fruit
FRESH FRUIT EXTRAVAGANZA $9.99
Seasonal fresh fruit served with house made granola and vanilla yogurt
South of the Border
BREAKFAST QUESADILLA $10.99
Scrambled eggs, spicy chorizo, peppers, onions, jack & cheddar cheeses with a side of fruit
BREAKFAST TACOS $11.99
Two crispy tacos stuffed with scrambled eggs, pulled pork, jack cheese, hash browns and fresh cilantro served with black beans & guacamole
HUEVOS RANCHEROS $12.99
Crispy corn tortillas topped with refried & black beans, two eggs, our famous pork green chili, melted jack cheese & westside potatoes
BREAKFAST BURRITO $12.99
Our classic breakfast burrito, smothered in homemade pork green chili, topped with jack, salsa & sour cream. Add avocado $1.75
BREAKFAST CHIMI $12.99
Our breakfast burrito with chorizo, hash browns, peppers, onions, and cheddar cheese, in a flour tortilla, deep fried and served crispy with homemade pork green chili, salsa & sour cream. Add avocado $1.75
CHILIQUILIES $12.99
Corn tortillas sautéed in a traditional 3 pepper chili sauce with queso fresco, avocado and crema topped with sunnyside up eggs and fresh cilantro
Pancakes & Waffles
(All flavors available Gluten Free for $1 more)
(Add your choice of breakfast meat for an additional $2.50)
POACHED PEAR $8.99
House poached pears with whipped vanilla mascarpone
THE DIRTY ELVIS $10.99
Pancakes, spiked with chocolate chips, banana slices, & bacon chunks. Topped with peanut butter & honey
LEMON RICOTTA $8.99
Light and fluffy with a hint of lemon, topped with strawberry-mint rhubarb compote whipped cream
BANANAS FOSTER $9.99
Waffle or pancake with banana creme fresh topped with bruleed banana slices and salted caramel sauce
Additional flavors: plain, blueberry, banana, chocolate chip 7.99
Gluten free pancakes available add $1.00 Add your favorite breakfast meat $2.50
French Toast
Add breakfast meat $2.50
CLASSIC $7.99
Brioche dipped in our cinnamon scented secret batter
CAPTAIN CRUNCH $8.99
French bread dipped in our cinnamon scented special batter then dredged in crushed captain crunch
MONKEY BREAD $8.99
House baked monkey bread, caramel sauce, cream cheese frosting summer berries and whipped cream
ANGEL'S ENVY $8.99
Angel food cake, secret batter, fresh berries and cinnamon sugar
CINNAMON ROLL $8.99
House baked cinnamon roll "bread" dredged in our secret batter topped with cinnamon roll frosting, cinnamon powdered sugar and raspberries
BANANAS FOSTER $9.99
Brioche french toast with banana creme fresh topped with bruleed banana slices and salted caramel sauce
Beverages Etc.
FULL ESPRESSO BAR
(locally roasted) espresso drinks, drip brew, cold brew and more (get wired)
JUICE
fresh squeezed oj, grapefruit, cranberry, apple, pineapple $4.25 lg. $2.75 sm.
PASTRIES
fresh baked cinnamon rolls, sticky buns, muffins
Adds, Sides & Such
Choose from our long list of extras to make your breakfast fit your taste's perfectly.
BREAKFAST MEATS $2.50
BISON TENDERLOIN $4.75
CORNED BEEF HASH $3.75
B & G $3.75
EGG (EACH) $2
HASH BROWNS $2
PLAIN PANCAKE (1) $3.50
FLAVORED PANCAKE $4
FRENCH TOAST (1) $3.50
FLAVORED FR. TOAST $4
BAGEL/TOAST $2
GLUTEN FREE TOAST $3
TURKEY BACON $2.50
SEASONAL FRUIT $3
BERRIES $4
SLICED TOMATOES $2
SUB EGG WHITES $2
NOT TO SOUND TOO FULL OF OURSELVES BUT WE ARE PRETTY POPULAR AROUND THIS BEAUTIFUL TOWN. TO HELP YOU GET RIGHT IN WE'VE PARTNERED WITH NOWAIT.

We are very excited to announce our partnership with NoWait! During peak or busy times this handy app quotes you wait times and more importantly allows you to join in the waitlist before even arriving at Westside Cafe. Just download the app (here from the iPhone or Android app stores) and we'll text you when your seat or table is ready even while you're enroute. For more detail see NoWait's website HERE.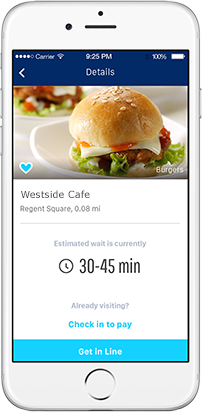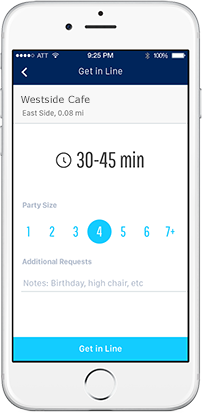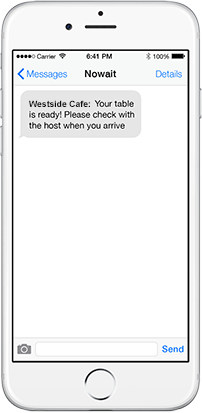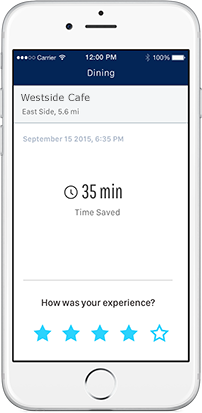 HAPPY HOUR SPECIAL
50% Off Appetizers and Draft Beer – 3pm to 6pm – Thurs. to Sun.

Open Daily 7am – 3pm
Evenings – Thursday to Sunday 3pm – 10pm